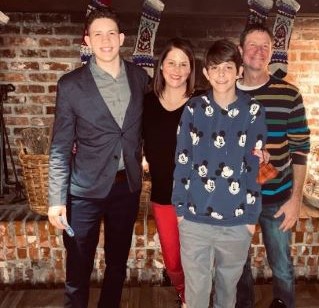 Aaron Heilman
Director of Ministry
Aaron (striped sweater in the picture) has been a part of worship and music ministry for over a decade. A confirmed Lutheran, he is a bit of a prodigal son. Aaron strayed from the church during his late teens and twenties but re-committed his life to Christ in his thirties. God used music to draw Aaron back to him. For this reason, Aaron has a soft spot for those who God seems to be calling back to the fold and relates very much to the Apostle Paul, "chief of all sinners". Like Paul, Aaron is an evangelist at heart.
Aaron is an accomplished guitarist and lover of music and art. Self-described as "a guitarist who sings", he loves to play and sing to the Lord. Aaron sees music as a profound gift from God and a healing ministry. "Beautiful music is the art of the prophets that can calm the agitations of the soul; it is one of the most magnificent and delightful presents God has given us."- Martin Luther
After spending a decade in worship ministry and various other roles in several churches, Aaron is excited to serve at Hillside as Director of Mininstry as he prepares to become an ordained pastor.
Aaron has been married for nearly 20 years to his lovely wife, Heather. They have two wonderful boys, now young men, Gavin and Quentin. Next to God, Aaron holds his family above all else. He graduated from Spring Hill High and now lives in Overland Park, KS. In his free time Aaron enjoys…."What free time?"-Aaron
Curtis Kaiser
Council President and Building/Grounds
Curtis was born and raised attending Sacred Heart Catholic Church in Park, KS. After college, he moved to Kansas City where he met his wife, Emilie. They have 3 children, Landon, Brady, and Emma. Landon and Brady have both been confirmed at Hillside, and Emma is in the process of confirming her faith in Christ.
Curtis has been active in supporting Hillside in many ways over the years. His family has attended Hillside since the second service and is a charter member. Maintaining the grounds and renovating the interior of the church are some current examples of his contributions. If it needs fixing, Curtis will roll up his sleeves and get to work.
Though the current environment is challenging, Curtis is looking forward to helping lead Hillside to a bright future as we give glory to God and serve the surrounding communities. Curtis and his family are heavily involved in the community life of Spring Hill and love being a part of the community.